Ishøj's natural local meeting place.
Ishøj Bycenter is a cosy urban centre that is a natural meeting place for local residents. This is mainly due to the accomplished architecture that offers a large covered area with shops and restaurants that connects Ishøj Station, a hypermarket, hotel, library and town hall with the surrounding residential neighbourhoods.
Almost 20.000 people pass through Ishøj Bycenter every day. This amounts to 5.3 million visitors a year, making Ishøj Bycenter one of Denmark's busiest shopping centres.
The centre is always buzzing with life and a constant flow of people. Some are on their way to the S-train, while others come to meet friends, shop and grab a bite to eat.
Facts
| | |
| --- | --- |
| Area: | 22.000 m2 |
| Number of leases: | 40 |
| Annual visitors: | 5.3 million |
| Inaugurated: | 1977 |
| Expansion: | 2009 |
| Parking spaces: | 1.500 |
| Ownership: | DSC |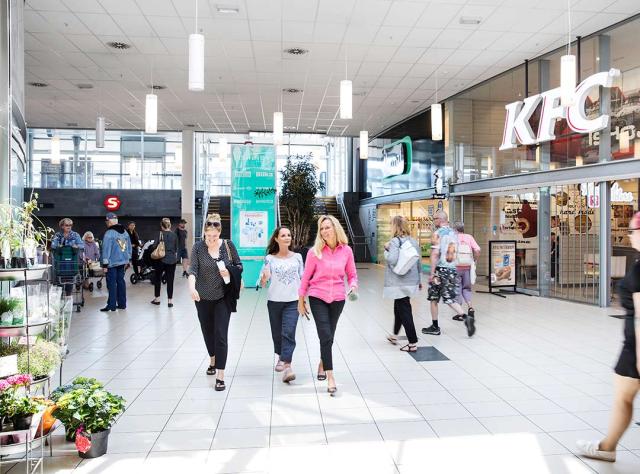 Find the centre here

Ishøj Østergade 43
DK-2635 Ishøj
Denmark
Opening hours
Monday-Friday: 10.00-19.00
Saturday: 10.00-16.00
Sunday: 11.00-16.00
Public holidays: Closed
*The opening hours of specific shops and eateries in the centre may vary.

Ishoej-bycenter.dk

Part of the local history
Ishøj Bycenter opened in 1977 and has since become a popular and integral part of everyday life in Ishøj.
Ishøj Bycenter is the town centre.
With its unique location, the centre is an integral part of the city's public spaces and a transport hub. It is the nerve centre of the city. In fact, you can't tell Ishøj's story without also telling the story of Ishøj Bycenter.
The Greater Copenhagen Light Rail line between Ishøj and Lyngby will open in 2025.
THE centre of the town
Ishøj Bycenter offers a wide selection of shops including Bilka, Intersport, Imerco, Matas, Synoptik and Normal, as well as a large selection of food and drink outlets.
The centre also houses a cinema, music theatre, library, the town hall, municipal services, a hotel, swimming pool, medical centre and other services.
In 2022, DSC embarked on a project to renovate Ishøj Bycenter and we are still in the process of achieving a stylish new upgrade.