VestsjællandsCentret in Slagelse
VestsjællandsCentret has a unique location in the centre of Slagelse. It is only a six-minute walk from Slagelse Station and a campus with more than 8.500 students. Located close to motorways and major roads, customers are attracted here from a large geographical catchment area.
VestsjællandsCentret is Denmark's third-oldest shopping centre. It celebrated its 50th anniversary in 2019. The centre has a modern vibe and has undergone major modernisation projects both inside and out. The centre has a good, strong retail mix including a large grocery store and a rich selection of shops, restaurants and cafés.
The centre's 50 shops and unique selection offer customers a superior shopping experience, and this has helped the centre to significantly outperform its closest competitors.
With an impressive social media following of almost 39.000 and a high level of events and marketing activity, VestsjællandsCentret demonstrates that it has a perfect understanding of our customers' wants and needs.
Facts
| | |
| --- | --- |
| Area: | 20.000 m2 |
| Number of leases: | 50 |
| Annual visitors: | 3.3 million |
| Inaugurated: | 1969 |
| Modernisation: | 1996 and 2015 |
| Parking spaces: | 900 |
| Ownership: | DSC |
Find the centre here

VestsjællandsCentret 10
DK-4200 Slagelse
Denmark
Opening hours
Monday-Friday: 10.00-19.00
Saturday: 10.00-16.00
Sunday: 11.00-15.00
Public holidays: Closed

*The opening hours of specific shops and eateries in the centre may vary.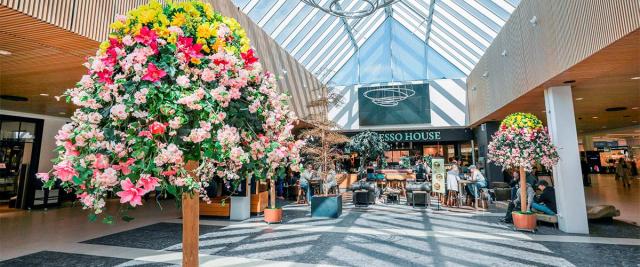 Our customers' favourite oasis!
VestsjællandCentret has a large, attractive customer base, in particular families with children, young people and mature women. They all benefit from many of the centre's activities.
The centre's offerings appeal to its varied target groups and include cosy cafés where both students and women can relax and settle in – but perhaps with different purposes. Families with children can make use of the centre's baby lounge, which has relaxing nappy-changing and breastfeeding facilities.
Be inspired at VestsjællandsCentret
At VestsjællandsCentret, we place great emphasis on inspiring and guiding our customers through our social media channels and app.
We have an extensive selection of fashion, beauty and wellness products and strive to explore new concepts and ideas. We are strongly convinced that focusing on efforts to inspire our customers will strengthen the bond between the centre and our visitors, making their experience with us more personal and of greater value.